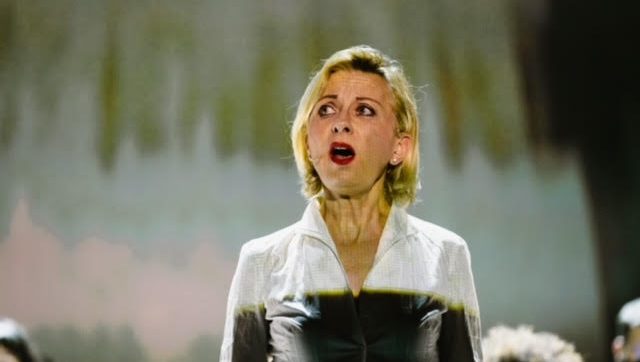 LIVE PERFORMANCE WITH NATALIE DESSAY AND IRENE JACOB FOLLOWED BY CANDLELIGHT DINNER WITH AMOS GITAÏ BACKSTAGE AT THE CORONET THEATRE
Film maker Amos Gitai returns to The Coronet Theatre with Yitzhak Rabin: Chronicle of an Assassination, a live performance based on his 2015 film Rabin, the Last Day, an investigation into the assassination in 1995 of the Israeli Prime Minister Yitzhak Rabin, after a demonstration for peace and against violence in Tel-Aviv. The assassination cast a cold and brutal light on a dark and terrifying world—a world that made murder possible, which suddenly became apparent to a traumatised public.
Written by Amos Gitai and Marie-José Sanselme, and drawn from the memories of Leah Rabin, the Prime Minister's widow, the production is a fable performed by an exceptional cast of actors, singers and musicians including Natalie Dessay and Irène Jacob, accompanied by the renowned english choir, English Voices, led by conductor Richard Wilberforce. Four voices are brought together to create a recitative, "halfway between lament and lullaby," to travel back through history and explore the incredible violence with which the nationalist forces fought the peace project, tearing Israel apart.
Natalie Dessay
Sarah Adler

Irène Jacob
Louis Sclavis (clarinet)
Bruno Maurice (accordion)
Alexey Kochetkov (violin)
Please note that there is a £100 fee for the evening. The fee includes :
1 drink before the show / VIP seats for the show / Dinner following the show (Middle Eastern food)
TO CONFIRM AND PAY PLEASE EMAIL: RSVP@TheCoronetTheatre.com
Sold out!